The Inclusive Role of Finance to Female MSME Enterpreneurs in Padangsidimpuan City
Case Study of Traders in Sangkumpal Bonang Market, Padangsidimpuan
Darwis Harahap

IAIN Padang

Sry Lestari

Nurgalita Rahwani

Nando Farizal
Abstract
The role of financial inclusion for female MSME entrepreneurs in the Sangkumpal Bonang Market, Padangsidimpuan city is very important because with more and more people having access to financial products and services, it is hoped that the community will be able to improve welfare and economic growth in the region will be more motivated. Moreover, in Padangsidimpuan city there Padangsidimpuan city. The theory in this research is a way to socialize the financial sector, especially to facilitate banking services and financial access for the public. Financial inclusion programs in Indonesia are expected to have a significant impact on disadvantaged communities, including those with low incomes, fringe benefits, minorities or those who do not have a legal identity. This research uses qualitative data in descriptive form. The types and sources of data used in this study are primary data, in which primary data consists of the results of interviews about female MSME entrepreneurs who do not have knowledge of banking services. The results of this study indicate are still many MSMEs who are not familiar with access to banking, both conventional and sharia, especially for female MSMEs who still rarely use banking services, and the purpose of this problem is to find out how big the role of financial inclusion is in making services easier for female entrepreneurs in the Sangkumpal Bonang Market, that some of the female MSME entrepreneurs in the Sangkumpal Bonang Market, Padangsidimpuan city, still do not know how to do banking, but there are some of them who are familiar with but do not have any access to banks because the conditions are too difficult.
References
Andrianto, & Anang, 2019, Manajemen Bank Syariah, Qiara Media.
Awaluddin. 2013, Kualitas Produk dan Kualitas Layanan Perbankan Syariah di Indonesia, Alauddin University Press.
Bank Indonesia, Perekonomian di sumatera utara. http://www.ni.go.id
Boediono. 2020, Ekonomi Indonesia Dalam Lintas Sejarah, Perpustakaan Nasional RI.
fajar, mukti, 2015, UMKM & Globalisasi Ekonomi, LP3M Universitas Muhammadiyah Yogyakarta jalan lingkar bantul.
Gautama Siregar, 2020, Intrumen Pengumpulan Data Dalam Penelitian.
Indriyati N, 2020, Pengaruh inklusif keuangan dan literasi keuangan terhadap kinerja UMKM Batik Di kabupaten Tegal, Universitas Pancasakti.
Ismail, 2011, Perbankan Syariah, Prenada Media Group.
Karenina, A, Inklusif Keuangan makin penting Disituasi Pandemi. http://kumparan.com/alia-karenina/inklusif-keuangan-makin-penting-di-situasi-pandemi-lvlxsdjgld/full
Kurniawan, P., & Lestari, S, 2020, Marengge—Rengge: Upaya membantu Kebutuhan Keluarga ( Studi Terhadap Perempuan di Pasar Sangkumpal Bonang Kota Padangsidimpuan).
Lestary Kusnandar, D, 2013, Perempuan dan perbankan: Sebuah tinjauan tentang peran inklusi keuangan terhadap pengusaha UMKM Perempuan di indonesia.
Nurjannah, L, 2017, Peran Inklusi keuangan terhadap perkembangan UMKM di Yogyakarta, State University Sunan Kalijaga Yogyakarta.
Panji, & Neneng, 2017, Hukum Perbankan Syariah, Sinar Grafika.
Rahmat Hidayat, Y, 2017, Analisis Pencapaian Tujuan Bank Syariah Sesuai UU No. 21 Tahun 2008.
Rusby, Z, 2017, Manajemen Bank Syariah, Pusat Kajian Pendidikan Islam FAI UIR.
Sadi, M, 2015, Konsep Hukum Perbankan Syariah, Setara Press.
Steelyana W, E, 2013, Perempuan dan perbankan sebuah tinjauan tentang inklusif keuangan terhadap pengusaha UMKM perempuan di Indonesia.
Tulus, 2017, Usaha Mikro, Kecil Menengah, Ghalia Indonesia.
Umam, K, 2013, Manajemen Perbankan Syariah, CV. Pustaka Setia.
Undang- undang tentang perbankan syariah.
Wahyu, P, 2010, Metode Penelitian kualitatif Untuk Bisnis, Graha Ilmu.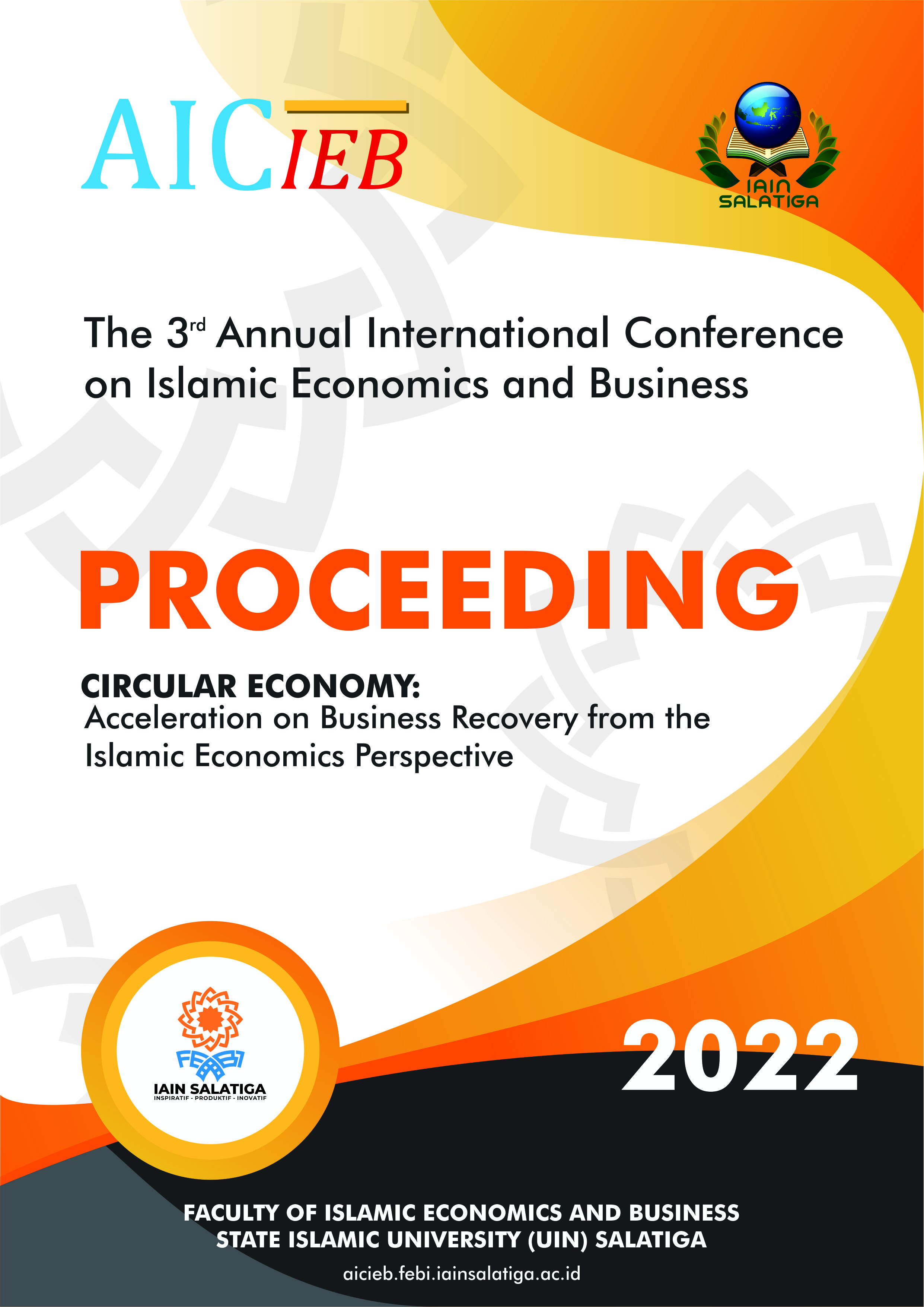 How to Cite
Harahap, D., Lestari, S., Rahwani, N., & Farizal, N. (2022). The Inclusive Role of Finance to Female MSME Enterpreneurs in Padangsidimpuan City. Annual International Conference on Islamic Economics and Business (AICIEB), 2(1), 158-167. https://doi.org/https://doi.org/10.18326/aicieb.v2i1.105
This work is licensed under a Creative Commons Attribution-ShareAlike 4.0 International License.