Robotic Process Automation Development Model and Application of Tripple Bottom Line in Village Accounting Systems as An Effort to Reach Advanced Villages by 2045
Galang Nusantara Achmad

University of Jember

Rosa Nur Fitriyana

University of Jember

Enrico Pratamaputra

University of Jember
Abstract
The village has been designated as an autonomous region to regulate and manage the administration of its government. Nevertheless, the performance of village government management in Indonesia still reflects an unsatisfactory governance system. This can be seen from ICW which noted that there were around 676 cases of fraud committed by village officials in the last five years. On the other hand, the lack of attention from the Village Government regarding the application of the Triple Bottom Line (TBL) is also the cause of village development which is still less than optimal. The implementation of TBL is still considered difficult considering that the village's financial management capacity is still very limited. So that the role of millennial accountants is not only prepared to be a compliance driver, but also pro on social and environmental aspects. The oriented village development TBL nicely, a Robotic Process Automation (RPA) is needed to provide an impetus for accountants' performance. This study uses a descriptive qualitative method with a literature study approach. Research data sourced from secondary data. It is very important for the village to involve the TBL in playing an accounting role as village development planning. Measurement of village performance that is based on economic, social and environmental supports the achievement of sustainable village development. In addition, the RPA needed to support the creation of satisfactory planning, monitoring, and evaluation governance.
References
Adrianto, Z. (2020). Pengaruh Robotic Process Automation Terhadap Akuntansi." Jurnal Ekonomi Dan Bisnis Terapan, 16(2), 40–53. https://doi.org/10.20869/auditf/2020/160/024
Amerieska, S. (2017). Peran Akuntan Berbasis Values Driven Accounting Sebagai Upaya Penciptaan Daya Saing Berkelanjutan. Jurnal Akuntansi, 21 (1), 62 – 74. https://doi.org/10.24912/ja.v21i1.134
Ariastini, N.N. and Semara, I.M.T. (2019). Implementasi Konsep Triple Bottom Line Dalam Program Corporate Social Responsibility Di Hotel Alila Seminyak. Jurnal Ilmiah Hospitality Management, 9(2), 160-168. https://doi.org/10.22334/jihm.v9i2.155
Arief, K. (2018). Model Sistem Dan Prosedur Penatausahan Akuntansi Desa. Sigma-Mu, 10(1). https://doi.org/10.35313/sigmamu.v10i1.1175
Fernando, D, and Harsiti. (2019). "Studi Literatur: Robotic Process Automation." Jurnal Sistem Informasi, 6(1), 6–11. https://doi.org/10.30656/jsii.v6i1.1071
Fyniel, A., and Hapsari, A. A. S. (2021). Peran Pendamping Desa Dalam Pengelolaan Keuangan Desa. Jurnal Ilmiah Akuntansi dan Keuangan, 10 (1), 69 – 84. https://doi.org/10.32639/jiak.v10i1.571
Guritno, T. (2021). ICW: Perangkat Desa Dominasi Terdakwa Desa Perlu Diawasi Ketat. https://nasional.kompas.com/read/2021/03/22/18093371/icw-perangkat-desa-dominasi-terdakwa-kasus-korupsi-dana-desa-perlu-diawasi?page=all. [Accessed May 17, 2022].
Halim, A, dan Muhammad S. K. (2012). Akuntansi Sektor Publik: Akuntansi Keuangan. 4ed. Salemba Empat.
Hasan, S., Kasim, N. M. & Tijow, L. M. (2021) Prospektif Modal Pengelolaan Keuangan Desa Melalui Pengawasan Berbasis Masyarakat. Maleo Law Journal, 5 (1), 1 – 17. https://doi.org/10.35334/bolrev.v4i2.1713
Isa, M., (2021). Desa Maju Penopang Terwujudnya Indonesia Emas 2045. radarbangsa.com, https://www.radarbangsa.com/news/31173/desa-maju-penopang-terwujudnya-indonesia-emas-2045. [Accessed May 17, 2022].
Ismail, M, Ari K. W, and Agus, W. (2016). Sistem Akuntansi Pengelolaan Dana Desa. Jurnal Ekonomi Dan Bisnis, 19(2). https://doi.org/10.24914/jeb.v19i2.336
Kamuli, S., Mozin, N., and Dotutinggi, S. J. (2021). Pemberdayaan Perangkat Desa dalam Penguatan Kelembagaan Desa Talaki. Journal Abdidas, 2 (2), 416-419. https://doi.org/10.31004/abdidas.v2i2.270
Kedziora, D., Leivonen, A. Piotrowicz, W. and Öörni, A. (2021). Robotic Process Automation (RPA) Implementation Drivers: Evidence of Selected Nordic Companies. Issues in Information Systems. 22 (2), 21 – 40. https://doi.org/10.48009/2_iis_2021_21-40
Kemenko, PMK. (2020). Dana Desa Fokus Pada Pemberdayaan Masayarakat dan Pengembangan Potensi Ekonomi Desa. https://www.kemenkopmk.go.id/2020-dana-desa-fokus-padapemberdayaan-masayarakat-dan-pengembangan-potensi-ekonomi-desa. [Accessed May 16, 2022].
Latifah, S.W. (2020). Triple Bottom Line Terhadap Nilai Perusahaan, Gross Profit Margin sebagai Indikator Ekonomi. EKUITAS (Jurnal Ekonomi dan Keuangan), 4(4), 544-563. https://doi.org/10.24034/j25485024.y2020.v4.i4.4249
Lomboh, A. (2015). Partisipasi Masyarakat dalam Pembangunan di Desa Lesabe Kecamatan Tabukan Selatan Kabupaten Kepulauan Sangihe1. Politico: Jurnal Ilmu Politik, 2(6), 1091.
Mardiasmo. (2018). Akuntansi Sektor Publik Edisi Terbaru.
Nurhidayat, E., Junaid, A., & Kamase, J. (2020). Penerapan Akuntansi Lingkungan Berdasarkan Triple Bottom Line Pada Rsud HM Djafar Harun Kabupaten Kolaka Utara. Jurnal Ilmu Akuntansi, 2(2), 38-80. https://doi.org/10.26618/inv.v2i2.4111
Otaru, S., Zubairu, U., Bikefe, G., Mustapha, Y., Araga, S., and Ayorinde, A. (2020). Robotic Process Automation and effectiveness of financial decisions: A critical review. Journal of Innovation in Business and Economics, 4(1), 21 – 30
Putra, I. G. B. N. P., & Larasdiputra, G. D. (2020). Penerapan Konsep Triple Bottom Line Accounting Di Desa Wisata Pelaga (Studi Kasus Pada Kelompok Usaha Tani Asparagus). KRISNA: Kumpulan Riset Akuntansi, 11(2), 129-136. https://doi.org/10.22225/kr.11.2.1419.129-136
Rahmatika, N. W., Winarno, J., and Ihsaniyati, H. (2020).Implementasi Konsep Triple Bottom Line (TBL) dalam Pemberdayaan Masyarakat Lahan Kritis di Camp Bell 2 Edupark Boyolali. Seminar Nasional dalam Rangka Dies Natalis ke-44 UNS Tahun 2020. 4(1). 314 – 321.
Rohma, F. F. (2021). Telaah Komparabilitas dan Fleksibilitas Laporan Berkelanjutan Triple Bottom Line: Prespektif Pengguna Laporan Pada Aliran Kas Investor. Kajian Akuntansi, 22 (1), 78-87. https://doi.org/10.29313/ka.v22i1.6027
Rosana, M., (2018). Kebijakan pembangunan berkelanjutan yang berwawasan lingkungan di Indonesia. Kelola: Jurnal Sosial Politik, 1(1), 148-163. https://doi.org/10.15575/jk.v1i1.4128
Ruspianda, R., Jafra, R.A. and Pratiwi, R. (2019). Identifikasi Potensi WILAYAH Desa Pangkalan Kecamatan Pucuk Rantau Kabupaten Kuantan Singingi. Jurnal Planologi dan Sipil (JPS), 1(2), 135-147.
Soleh, A., 2017. Strategi pengembangan potensi desa. Jurnal Sungkai, 5(1), 32-52. https://doi.org/10.30606/js.v5i1.1181
Sulasdiono, A., & Kartika, R. S. (2021). Analisis Skala Prioritas Penggunaan Dana Desa Di Kabupaten Semarang, Demak, Dan Kendal. Jurnal Kebijakan Pembangunan, 16 (1), 105 – 114. https://doi.org/10.47441/jkp.v16i1.141
Supoyono, B.R. (2020). Optimalisasi Potensi Lokal dan Peningkatan Pendapatan Pedesaan Melalui BUMDesa. BHUMIPHALA: Jurnal Pengembangan Daerah, 1(1), 19-24.
Temalagi, S., and Borolla, L. (2021). Penerapan Konsep Triple Bottom Line Accounting Di Desa Telalora Pulau Masela (Studi Kasus Pada Petani Rumput Laut). in Conference on Economic and Business Innovation.
Utama, D. P. (2017). Analisa Pengaruh Penerapan 3P (Profit, People, Planet) Pada Corporate Social Responsibility (CSR) PT. Saipem Indonesia (Studi Kasus Pada PT Saipem Indonesia Karimun Branch). Jurnal Penelitian Dan Kajian Ilmiah, 11(75), 223–35. https://doi.org/10.33559/mi.v11i75.1576
Yuliana. (2021). Strategi dan Implementasi Teknologi Informasi Pada Audit Era Digital. Prosiding National Seminar on Accounting, Finance, and Economics (NSAFE), 1 (2), 1 – 5.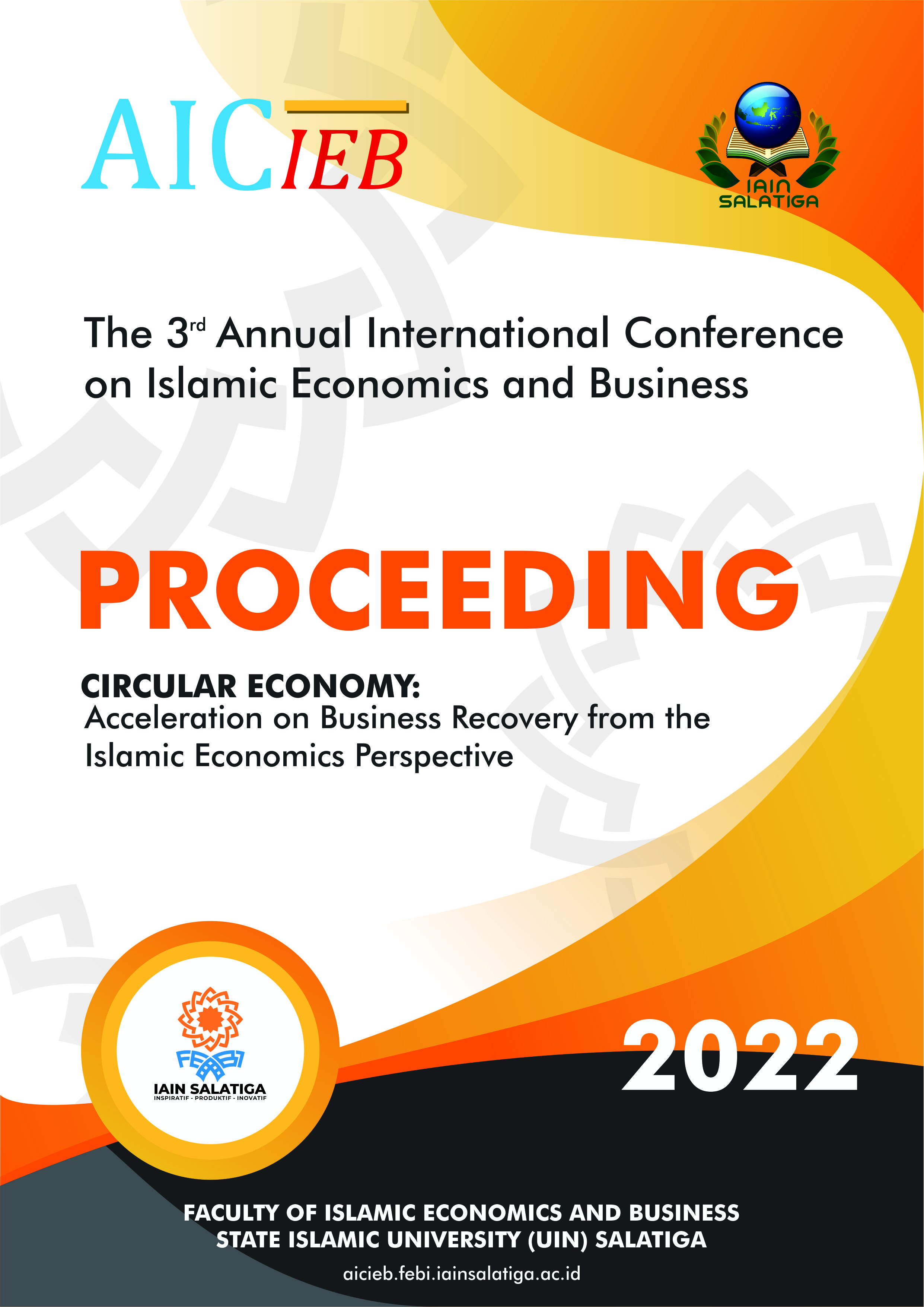 How to Cite
Achmad, G., Fitriyana, R., & Pratamaputra, E. (2022). Robotic Process Automation Development Model and Application of Tripple Bottom Line in Village Accounting Systems as An Effort to Reach Advanced Villages by 2045. Annual International Conference on Islamic Economics and Business (AICIEB), 2(1), 168-178. https://doi.org/https://doi.org/10.18326/aicieb.v2i1.109
This work is licensed under a Creative Commons Attribution-ShareAlike 4.0 International License.