A Sentiment Analysis on Islamic Philantrhopi
The Role of Islamic Philanthropy to support of MSMEs
Mia Sari

Tazkia Islamic University College

Aam Slamet Rusydiana
Abstract
Abstract. COVID-19 has had a considerable impact on the economic sector and financial market operations around the world. During the COVID-19 pandemic, however, Indonesia's Islamic financial assets increased by 22.71 percent, reaching Rp1,801.40 trillion from Rp1,467.07 trillion the previous year. This demonstrates that Islamic microfinance is resistant to the pandemic and contributes significantly to national economic growth. This study examined Islamic philanthropy, a component of Islamic microfinance. Based on the available literature, it is discovered that there is no sentiment research on this topic. The method used is a descriptive statistical analysis with meta-analysis and sentiment analysis of secondary data in the form of metadata from 91 Scopus-indexed publications published in the last 44 years, beginning in 1978 and ending in 2022, is employed. The results of the sentiment analysis is indicate that responses to the development of Islamic philanthropy tend to be variable, with positive sentiment at 34.1%, negative sentiment at 23.1%, and neutral sentiment at 42.9%. This study also attempts to identify negative responses  on Islamic philanthropy and offers ideas for future research.
Keywords: Islamic Philanthropy, COVID-19, Islamic Microfinance, Sentiment Analysis
References
Aldeen, KN, & Pertiwi, RS (2021). Cash waqf from the millennials' perspective : a case of Indonesia. November. https://doi.org/10.1108/IJIF-10-2020-0223
Aribi, ZA, & Gao, SS (2011). Narrative disclosure of corporate social responsibility in Islamic financial institutions. Managerial Auditing Journal, 27(2), 199–222. https://doi.org/10.1108/02686901211189862
Bt Mahmud, M., Bazilah Bt Mohd Zain, NA, & Firdaus Bt Fatah Yasin, R. (2019). Participation of Muslim Women in Islamic Philanthropy in the Digital Era: Malaysian Experience. Afkaruna, 15(2). https://doi.org/10.18196/aiijis.2019.0101.165-186
Georgiadou, E., & Nickerson, C. (2022). Marketing strategies in communicating CSR in the Muslim market of the United Arab Emirates: insights from the banking sector. Journal of Islamic Marketing, 13(7), 1417–1435. https://doi.org/10.1108/JIMA-09-2020-0274
Ichsan, M. (2020). Islamic Philanthropy and Muhammadiyah's Contribution to the Covid-19 Control in Indonesia. 16(1), 114–131. https://doi.org/10.18196/AIIJIS.2020.0116.114-130
Iskandar, A., Tinggi, S., Islam, I., Stiba, A., Tinggi, S., Islam, I., Stiba, A., Tinggi, S., Islam, I., & Stiba, A. (2021). Islamic Philanthropy and Poverty Reduction in Indonesia : The Role of Integrated Islamic Social and Commercial Finance Institutions Akhmad Hanafi Dain Yunta Abstract : Keywords : Abstract : 16(2), 274–301.
Kaleem, A., & Ahmed, S. (2010). The quran and poverty alleviation: A theoretical model for charity-based Islamic microfinance institutions (MFIS). Nonprofit and Voluntary Sector Quarterly, 39(3), 409–428. https://doi.org/10.1177/0899764009332466
Latif, H. (nd). Islamic philanthropy and the private sector in Indonesia.
Latif, H. (2017). Addressing unfortunate wayfarer: Islamic philanthropy and Indonesian migrant workers in Hong Kong. Austrian Journal of South-East Asian Studies, 10(2), 237–255. https://doi.org/10.14764/10.ASEAS-2017.2-7
Lita, HN, & Padjadjaran, U. (2021). WAQF AND ECONOMIC DISTRIBUTION JUSTICE : SUSTAINABLE POVERTY ALLEVIATION EFFORTS. 24(1), 1–6.
Omar, HH, & Sanyinna, AY (2018). Administrative challenges of WAQF institution in the contemporary world: Future prospects. Journal of Social Sciences Research, 2018(Special Issue 6), 294–299. https://doi.org/10.32861/jssr.spi6.294299
Osella, F., & Widger, T. (2018). "You can give even if you only have ten rupees!": Muslim charity in a Colombo housing scheme. Modern Asian Studies, 52(1), 297–324. https://doi.org/10.1017/S0026749X1700021X
Rochani, A., Yuliastuti, N., & Sudarwanto, B. (2021). Philanthropy in Settlement Infrastructure Development. IOP Conference Series: Earth and Environmental Science, 832(1). https://doi.org/10.1088/1755-1315/832/1/012010
Salatiga, I. (2016). COMMUNITY THROUGH PHILOLANTROPIC ACTIVITIES (Case Study of the Tazakka Institute of Islamic Banking DIII. Journal of Religious Social Research, 10(2), 473–494.
Saripudin, U. (2016). Islamic Philanthropy and Economic Empowerment. BISNIS : Journal of Islamic Business and Management, 4(2), 165. https://doi.org/10.21043/bisnis.v4i2.2697
Setiyowati, A. (2019). EMPOWERING ISLAMIC PHILANTHROPY : ANALYSIS OF ENTREPRENEURIAL CAPITAL ASSISTANCE PROGRAM BY LAZISMU SURABAYA CITY. 7(4), 1018–1025.
Suryanto, A., Rahmat, BZ, & Marlina, L. (2020). Islamic Philanthropy : Waqf Empowerment of Madina Minimarket In Tasikmalaya - Indonesia. 5(1), 1–16.
Tri Kurniawati, D., Rosita, NH, & Anggraeni, R. (2021). The role of emotional marketing and UTAUT on donation intention through social media. International Journal of Research in Business and Social Science (2147-4478), 10(1), 38–46. https://doi.org/10.20525/ijrbs.v10i1.1026
Wulansari, HY, Ridwan, MK, Anditya, NR, Nurhasanah, Sholilah, NI, & Wibowo, W. (2018). Islamic Philanthropy for Peace and Social Justice in Indonesia.
Yakubu, A., & Aliyu, Y. (2021). Zakah and Waqf Sustainable Means of Poverty Reduction : A Literature Review. July.
http://www.ojk.go.id/id/kanal/syariah/data-dan-statistik/laporan-perkembangan-keuangan-syariah-indonesia/default.aspx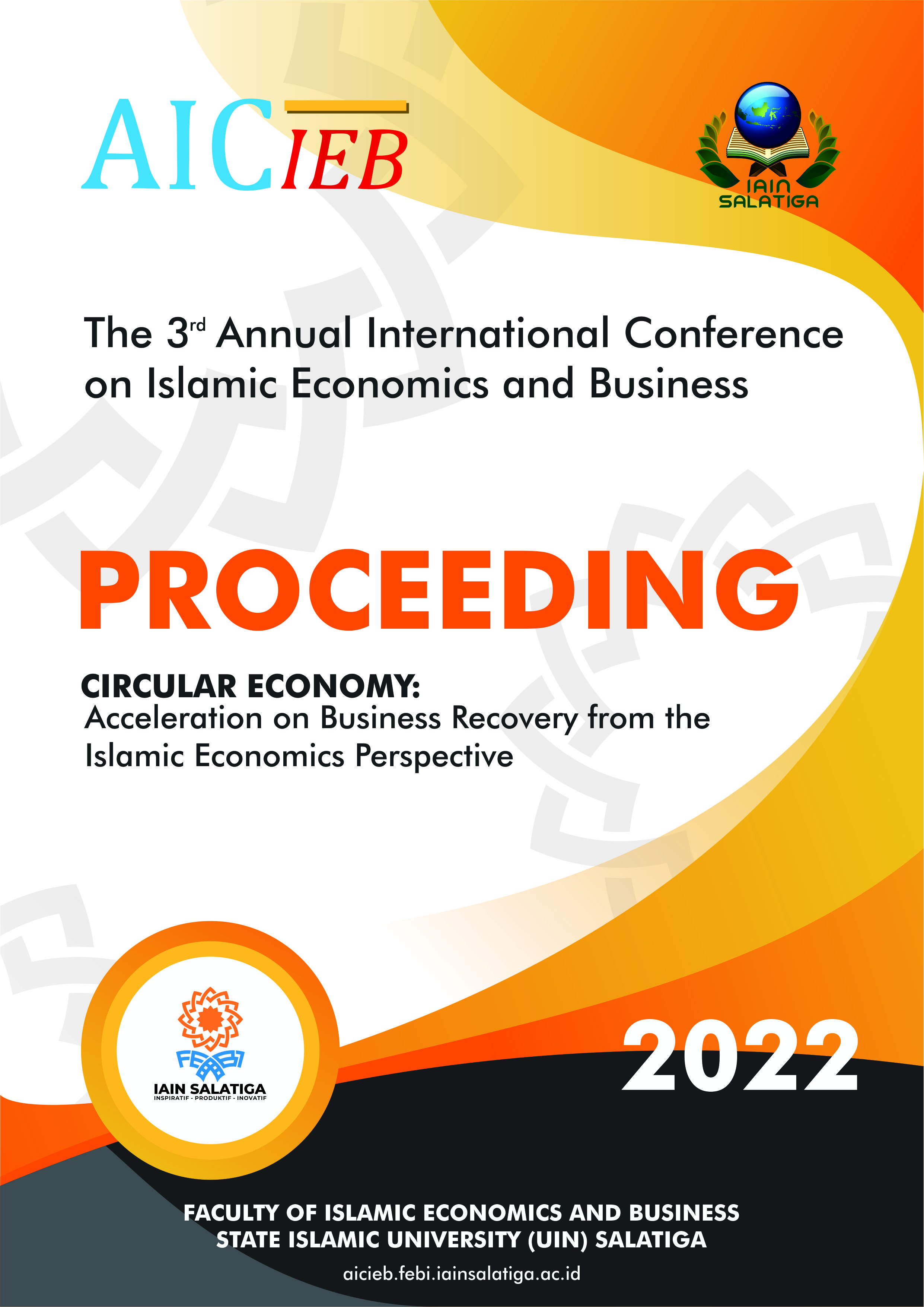 How to Cite
Sari, M., & Rusydiana, A. (2022). A Sentiment Analysis on Islamic Philantrhopi. Annual International Conference on Islamic Economics and Business (AICIEB), 2(1), 58-72. https://doi.org/https://doi.org/10.18326/aicieb.v2i1.114
This work is licensed under a Creative Commons Attribution-ShareAlike 4.0 International License.