Islamic Boarding School-Based Women's Economic Empowerment and Its Impact on Increasing Home Industry Income
Rozalinda Rozalinda

Universitas Islam Negeri Imam Bonjol Padang

Nurhasnah Nurhasnah
Abstract
This study aims to elaborate on the empowerment carried out by the Micro Waqf Bank for women around Islamic boarding schools and its impact on increasing the income of the home industry. This study uses a mix method that combines qualitative and quantitative research. The research was conducted on micro waqf banks in Indonesia. Data collection techniques were carried out by questionnaires, interviews, observations and documentation data. Data analysis and review was carried out qualitatively and statistically. Empowerment carried out by Micro Waqf Banks begins with Pre-Compulsory Group Training (Pra PWK), then Group Compulsory Training (PWK) and Weekly Halaqah (HALMI). The distribution of financing and assistance to women is carried out on a group basis with a pattern of joint responsibility. The financing disbursed by micro waqf banks to women has a significant impact on increasing the income of the home industry.
References
Ansofino. (2016). Ekonometrika. CV Budi Utama.
Ashraful, M., & Khan, I. (2016). Microcredit And Grameen Bank: A View From The Grassroots. In Article in International Journal of Current Research. http://www.journalcra.com
BSM, L. (2017a). "SOP & SOM Standar Operasional Prosedure Dan Management Untuk LKM Syariah-Bank Wakaf Mikro (p. 8). LAZNAS BSM.
BSM, L. (2017b). Manajemen Lembaga Keuangan Mikro Syariah. LAZNAS BSM.
Cortini, M. (2014). Mix-method research in applied psychology. Mediterranean Journal of Social Sciences, 5(23). https://doi.org/10.5901/mjss.2014.v5n23p1900
Creswell, J. W. (2007). Qualitative Inquiry & Research Design: Choosing Among Five Approaches (Second Edi). Sage Publications.
Darwanto, D. (2014). Strategi Penguatan Microfinance Syariah Berbasis Ekonomi Kelembagaan. INFERENSI, 8(2), 501. https://doi.org/10.18326/infsl3.v8i2.501-522
developer, mediaindonesia com. "20 Bank Wakaf Mikro Berdayakan Pesantren," March 10, 2018. https://mediaindonesia.com/read/detail/148766-20-bank-wakaf-mikro-berdayakan-pesantren.
Faujiah, A. (2018). Bank Wakaf Mikro dan Pengaruhnya Terhadap Inklusi Keuangan Pelaku Usaha Kecil dan Mikro (UKM). 2nd Proceeding Annual Conference For Muslim Scholars Koperatais Wilayah IV Surabaya, 373–381.
Fawaid, A., & Fatmala, E. (2020). Home Industry Sebagai Strategi Pemberdayaan Usaha Mikro Dalam Meningkatkan Financial Revenues Masyarakat. Al Qalam: Jurnal Ilmiah Keagamaan Dan Kemasyarakatan, 14(1), 109–128. https://doi.org/10.35931/AQ.V14I1.342
Fox, L., & Romero, C. (2017). In the Mind, the Household, or the Market? Concepts and Measurement of Women's Economic Empowerment. The World Bank. https://doi.org/10.1596/1813-9450-8079
Fuad, A. W. (2000). Relevansi Gerakan Feminisme dalam Konsep Pendidikan Islam. Jurnal Pemikiran Islam Tentang Pemberdayaan Perempuan, 77–78.
Ghozali, I. (2013). Ghozali, Imam (2013). Aplikasi Analisis Multivariate Dengan Program IBM SPSS 21Update PLS Regresi. Semarang: Badan Penerbit Universitas Diponegoro.
Gilarso, T. (2004). Pengantar Ilmu Ekonomi Makro. Kanisius.
Harjanto, Setyo Aji. "OJK Bentuk Bank Wakaf Mikro Untuk Sasar Masyarakat Bawah." ekonomi. Accessed December 12, 2019. https://www.cnnindonesia.com/ekonomi/20171124182522-78-257889/ojk-bentuk-bank-wakaf-mikro-untuk-sasar-masyarakat-bawah.
Hasiba, F. F., Mahmudah, S. N., & Puji Sucia Sukmaningrum, Shochrul Rohmatul Ajija, M. B. F. Z. (2021). The Strategies for Developing Micro Waqf Bank in Indonesia. Rigeo.org, 11(4), 2021. https://doi.org/10.48047/rigeo.11.04.24
Ife, J. (2002). Community Development 2nd. Pearson Education Australia Pty Ltd.
Iskandar. (2017). Pengaruh Pendapatan Terhadap Pola Pengeluaran Rumah Tangga Miskin di Kota Langsa. Jurnal Samudra Ekonomi, 1(2), 129.
Kabeer, N. (2009). Women's Economic Empowerment Key Issues and Policy Options. https://www.empowerwomen.org/en/resources/documents/2015/10/womens-economic-empowerment-key-issues-and-policy-options?lang=en
Kasidi, H. P. (2016). Petunjuk Pelaksanaan Pengembangan Industri Rumahan di Daerah 2016. Kementerian Pemberdayaan Perempuan dan Perlindungan Anak Republik Indonesia.
Khairunnisa, I. (2017). Pemberdayaan Ekonomi Perempuan Di Daerah. Jurnal Ilmiah Ilmu Ekonomi, 6(11), 81. http://eprints.ummi.ac.id/149/1/7 Pemberdayaan Ekonomi Perempuan Di Daerah.pdf
Kinbal, R. W. (2015). Modal Sosial dan Ekonomi Industri Kecil : Sebuah Studi Kualitatif (1st ed.). Deepublish.
KPPA. (2016). Peraturan Menteri Pemberdayaan Perempuan dan Perlindungan Anak Republik Indonesia Nomor 2 Tahun 2016 Tentang Pedoman Umum Pembangunan Industri Rumahan Untuk Meningkatkan Kesejahteraan Keluarga Melalui Pemberdayaan Perempuan.
Moleong, L. J. (2004a). Metodologi Penelitian Kualitatif. Rosda Karya.
Nasution, Hairatunnisa, Yasir Nasution, M. Y. (2017). Analisis Financial Inclusion Terhadap Pemberdayaan Masyarakat Miskin Di Medan (Studi Kasus Pembiayaan Mikro Ss Ii Di Bank Sumut Syariah). J-EBIS, 2(1), 1–20.
Ningsih, T. R. (2017). Pemberdayaan ekonomi pesantren pengembangan sumber daya lokal (Studi pada Pondok Pesantren Daarut Tauhid). Jurnal Pengembangan Masyarakat Islam, 3(1), 57–78.
Nugroho, W., & Hilal, F. N. (2019). Micro Waqf Bank in Indonesia: Analysis of The Constitution Concept According to The Maqashid Sharia. Al-Iktisab: Journal of Islamic Economic Law, 3(1). https://doi.org/10.21111/AL-IKTISAB.V3I1.3905
Nurhayati. (2016). Social Entrepreneurship Muhammad Yunus"Grameen Bank." Jurnal Bisnis Manajemen & Perbankan, 2(1), 31–48. http://www.ashoka.org/social_entrepreneur.
Nursalikhah, A. (2018). OJK: Pembentukan Bank Wakaf Mikro Butuh Rp 8 Miliar - Penelusuran Google. Republika.co.id.
Paramita, & Prananingtyas, H. S. D. (2020). Legal Consequences of Dualism Regulations on Micro Waqf Bank as a Sharia Microfinance Institutions in Indonesia. Varia Justicia, 16(1), 1–14. https://doi.org/10.31603/variajusticia.v16i1.3205
Ratnasari, D. (2016). Pemberdayaan Perempuan dalam Pendidikan Pesantren. 'Anil Islam: Jurnal Kebudayaan Dan Ilmu Keislaman, 9(1), 122–147.
Ratnasari, D., Sunan, U., & Yogyakarta, K. (2016). The Empowerment Of Women In Education Of Pesantren. In jurnal.instika.ac.id (Vol. 9). http://jurnal.instika.ac.id/index.php/AnilIslam/article/view/11
Riadi, M. (2020). Populasi dan Sampel Penelitian (Pengertian, Proses, Teknik Pengambilan dan Rumus). Www.Kajianpustaka.Com.
Rohmah, S. (2014). Model Pemberdayaan Ekonomi Perempuan …. Rohmah ohmah ohmah ohmah. In Sawwa: Jurnal Studi Gender (Vol. 10, Issue 1). Pusat Studi gender dan Anak (PSGA) Universitas Islam Negeri Walisongo Semarang. https://doi.org/10.21580/SA.V10I1.630
Rozalinda. (2016). Fiqh Ekonomi Syariah Prinsip Dan Implementasinya Pada Sektor Keuangan Syariah (1st ed.). Raja Grafindo Persada.
Saptono, I. T., Kusumanto, R. A., Pamungkas, B., Sukarna, M. I., Hutagalung, M., Kamila, P. A., Rafdison, M. A., Hadiningdyah, D. I., Laksono, A. P., Nugroho, M. S. S., Tohor, T., Zaenuri, Muhammad, I. F., Mujiawan, D., & Sholeh, dr. B. (2021). Annual Report Cash Waqf Linked Sukuk 2021. Departemen Ekonomi Dan Keuangan Syariah Bank Indonesia, 76.
Sugiyono. (2009). Metode Penelitian Bisnis (Pendekatan Kualitatif, kuantitatif, dan R&D). Alfabeta.
Sugiyono. (2017). Metode Penelitian Kombinasi (Mixed Methods). Alfabelta.
Sukirno, S. (2012). Makroekonomi Teori Pengantar. Rajawali Pers.
Sulianto. (2006). Metode Riset Bisnis. Andi Offset.
Sulistiani, Siska Lis, Muhammad Yunus, E. M. B. (2019). The Role and Legality of Micro Waqf Bank in Pesantren Based Poverty Alleviation in Indonesia. Jurnal Bimas Islam, 12(1), 1–26.
Suminartini, S., & Susilawati, S. (2020). Pemberdayaan Masyarakat Melalui Bidang Usaha Home Industry Dalam Meningkatkan Kesejahteraan Masyarakat. Journal.ikipsiliwangi.ac.id, 3(3), 2615–1480. https://journal.ikipsiliwangi.ac.id/index.php/comm-edu/article/view/3340
Sutopo, Yeri & Slamet, A. (2017). Statistika Inferensial. Andi.
Sutra Disemadi, H., & Roisah, K. (2019). Kebijakan Model Bisnis Bank Wakaf Mikro Sebagai Solusi Pemberdayaan Ekonomi Masyarakat. Law Reform, 15(2), 77. https://ejournal.undip.ac.id/index.php/lawreform/article/view/26176
Tabunan, T. (2002). Usaha Kecil dan Menengah di Indonesia: Beberapa Isu Penting. Salemba Empat.
Tashakkori, Abbas & Teddie, C. (2010). Handbook of Mixed Methods. Sage Publications.
Thanikaivel, M., & Priya, K. (2018). Economic Empowerment Of Women In India. International Journal of Technical Research & Science, 3(VII). https://doi.org/10.30780/ijtrs.v3.i7.2018.014
Yunus, M. (2005). Eliminating Poverty Through Market-Based Social Entrepreneurship. In Global Urban Development (Vol. 1). http://www.pragueinstitute.org/Issue1PIMag05/Yunus PDF.pdf
Yunus, Muhammad. "The Grameen Bank." Scientific American 281, no. 5 (n.d.): 114–19.
Yunus, S., Suadi, & Fadli. (2017). Model Pemberdayaan Masyarakat Terpadu. Bandar Publishing.
Zuhri, S. (2013). Analisis Pengembangan Usaha Kecil Home Industri Sangkar Ayam Dalam Rangka Pengentasan Kemiskinan. Lamongan. Jurnal Manajemen Dan Akutansi, 2(3), 48.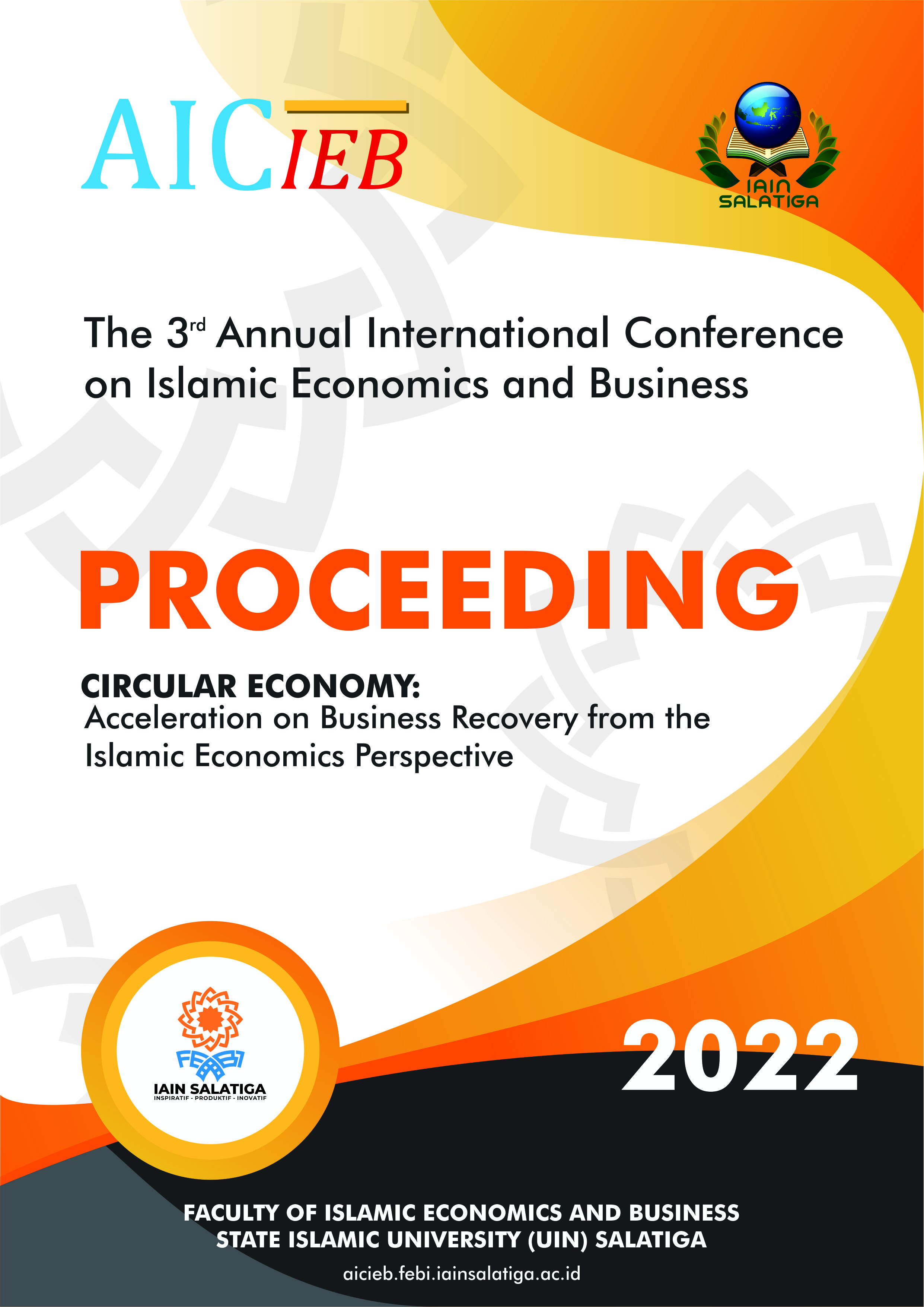 How to Cite
Rozalinda, R., & Nurhasnah, N. (2022). Islamic Boarding School-Based Women's Economic Empowerment and Its Impact on Increasing Home Industry Income. Annual International Conference on Islamic Economics and Business (AICIEB), 2(1), 432-448. https://doi.org/https://doi.org/10.18326/aicieb.v2i1.126
This work is licensed under a Creative Commons Attribution-ShareAlike 4.0 International License.