Comparison of the Financial Performance of Bank Syariah Indonesia Pre and Post Merger During the Covid-19 Pandemic
Rika Nurlaila

IAIN Kudus

Ismi Kuswati

Ibnu Muttaqin
Abstract
The Covid-19 pandemic also affects the banking sector, this condition can reduce the competitiveness of Islamic banks. Nevertheless, the Minister of SOEs merged the BUMN Sharia banks, namely BRIS, BNIS, and BSM to become Bank Syariah Indonesia. This study aims to compare the financial performance of Bank Syariah Indonesia before and after the merger during Covid-19, on the ratio of ROA, NPF Nett, FDR, BOPO, and CAR. This study uses a comparative research method with quantitative data analysis using the Paired Sample t-test. Data collection was obtained through the official BSI website. In this study, it was found that there were differences in BSI's financial performance between pre and post-merger in terms of ROA, Net NPF, FDR, and BOPO, while the CAR ratio did not show any difference between pre and post-merger. These results provide recommendations to further researchers that it is necessary to increase the research ratio variable and the latest year of financial performance data.
References
Alimun, P. R., Kasim, A., & Mamonto, A. (2022). Analisis Kinerja Keuangan Bank Syariah Sebelum dan Setelah Merger Dilihat dari Rasio Profitabilitas, Likuiditas dan Aktivitas. Mutanaqishah : Jurnal Of Islamc Banking, 2(21), 33–44. https://e-journal.iaingorontalo.ac.id
Arga, A., Fiqri, A., Azzahra, M. M., Branitasandini, K. D., & Pimada, L. M. (2021). Peluang dan Tantangan Merger Bank Syariah Milik Negara di Indonesia Pada Masa Pandemi Covid-19. El Dinar : Jurnal Keuangan Dan Perbankan Syariah, 9(1), 1–18. https://doi.org/10.18860/ed.v9i1.11315
Dayanti, M. (2021). Analisis Laporan Keyangan Menggunakan Pendekatan Likuiditas Solvabilitas dan Profitabilitas Sebagai Alat Pengambilan Kepurusan Bagi Stakeholder [IAIN Bengkulu]. http://repository.iainbengkulu.ac.id/id/eprint/5716
Fachri, M. F., & Mahfudz. (2021). Analisis Pengaruh CAR,BOPO,NPF Terhadap ROA ( Studi pada Bank Umum Syariah di Indonesia Periode Tahun 2016-2019 ). Diponegoro Jounal of Management, 10(1), 1–10. https://ejournal3.undip.ac.id/index.php/djom/article/view/30914
Fitriani, P. D. (2020). Analisis komparatif kinerja keuangan bank umum syariah pada masa pandemi covid-19. Jurnal Ilmu Akuntansi Dan Bisnis Syariah, II(02), 113–124. https://doi.org/10.15575/aksy.v2i2.9804
Jaya, A. (2021). Perbandingan Kinerja Keuangan pada Bank Woori Saudara Sebelum dan Setelah Merger The comparison of financial performance pre-merger and post-merger Bank Woori Saudara. Indonesian Jounal of Economics and Management, 1(3), 523–531. https://doi.org/10.35314/ijem.v1i3.3014
Juwita, A., & Devi, M. (2020). Analisis Kinerja Keuangan Bank Konvensional dan Bank Syariah ( Studi Empiris Pada BEI dan Jakarta Islamic Indeks Periode 2015-2019 ) (pp. 644–645). https://journal.unimma.ac.id/index.php/conference/article/view/4689
Krismaya, S., Kusumawardhana, V., Ekonomi, F., Malang, U. M., & Pertiwi, S. (2021). Analisis Perkembangan Profitabilitas Bank BSM, BRIS, Dan BNIS Sebelum dan Setelah Merger Menjadi BSI. Jurnal Manajemen, Ekonomi, Keuangan Dan Akuntansi, 2(2), 134–144. http://ejournal.poltekkutaraja.ac.id/index.php/meka/article/view/73
Mahiswari, R., Nugroho, P. I., Kristen, U., & Wacana, S. (2014). Pengaruh Mekanisme Corporate Governance, Ukuran Perusahaan dan Leverage Terhadap Manajemen Laba dan Kinerja Keuangan. Jurnal Ekonomi Dan Bisnis, 17(1), 1–20. https://doi.org/10.24914/jeb.v17i1.237
Miftahudin, H. (2021). Masa Pandemi, Kinerja Keuangan Bank Syariah Lebih Mentereng Ketimbang Bank Konvensional. https://www.medcom.id/ekonomi/keuangan/RkjlnZGN-masa-pandemi-kinerja-keuangan-bank-syariah-lebih-mentereng-ketimbang-bank-konvensional
Raharjo, V. N. P. (2011). Analisis kinerja keuangan bank sebelum dan sesudah merger. http://e-journal.uajy.ac.id/id/eprint/1289
Rahayu. (2020). Kinerja Keuangan Perusahaan. Program pascasarjana Universitas Prof. Moestopo. https://books.google.co.id/books/about/kinerja_keuangan_perusahaan.html?id=hCl6EAAAQBAJ&printsec=frontcover&source=kp_read_button&hl+id&newbks=1&newbks_redir=1&redir_esc=y
Ridwan Hidayat, D. (2021). Kinerja Keuangan Perbankan Syariah Pada Masa Covid-19 dan Strategi Peningkatannya. Finansha-Jornal of Sharia Financial Management, 2(2), 77–91. https://doi.org/10.15575/fjsfm.v2i2.14207
Sellly, & Siregar, D. L. (2021). Analissi Kinerja Keuangan Sebelum dan Sesudah Merger Pada Sektor Perbankan yang Terdaftar di Bursa Efek Indonesia. Scientia Jounal : Jurnal Ilmiah Mahasiswa, 3(1). https://ejournal.upbatam.ac.id/index.php/scientia_journal/article/view/2775
Somantri, Y. F., & Sukmana, W. (2019). Analisis Faktor- Faktor yang Mempengaruhi Financing to Deposit Ratio ( FDR ) pada Bank Umum Syariah di Indonesia. Berkala Akuntansi Dan Keuangan Indonesia, 04(02), 61–71. https://doi.org/10.20473/baki.v4i2.18404
Thamrin, H. (2021). Analisis dampak covid 19 terhadap kinerja keuangan perbankan syariah di indonesia. Jurnal Tabarru' : Islamic Banking and Finance, 4(1), 37–45. https://doi.org/10.25299/jtb.2021.vol4(1).6068
Utari, K. K., Septiyana, Y., & Elwardah, K. (2022). Efisiensi Keputusan Merger Tiga Bank Syariah di Indonesia pada Masa Pandemi Covid-19 ( Studi di BSI Kc Bengkulu Panorama ). Jurnal Ekombis Review, 10(14), 311–324. https://doi.org/10.3676/ekombis.v10iS1
Wijayanti, N., Ekonomi, F., Bisnis, D. A. N., & Surakarta, U. M. (2014). Analisis Kinerja Keuangan Bank Sebelum dan Sesudah Merger (Studi Kasus PT Bank CIMB Niaga Tbk) (pp. 1–15). Universitas Muhammadiyah Surakarta. http://eprints.ums.ac.id/eprint/28116
Winata, I. (2020). Pengaruh Rasio Kecukupan Modal, Likuiditas dan Operasional Terhadap Kinerja keuangan Bank Syariah di Indonesia (Studi Empiris Pada BRI Syariah). Jornal Development, 8(1), 90–95. https://doi.org/10.53978/JD.V8i1.151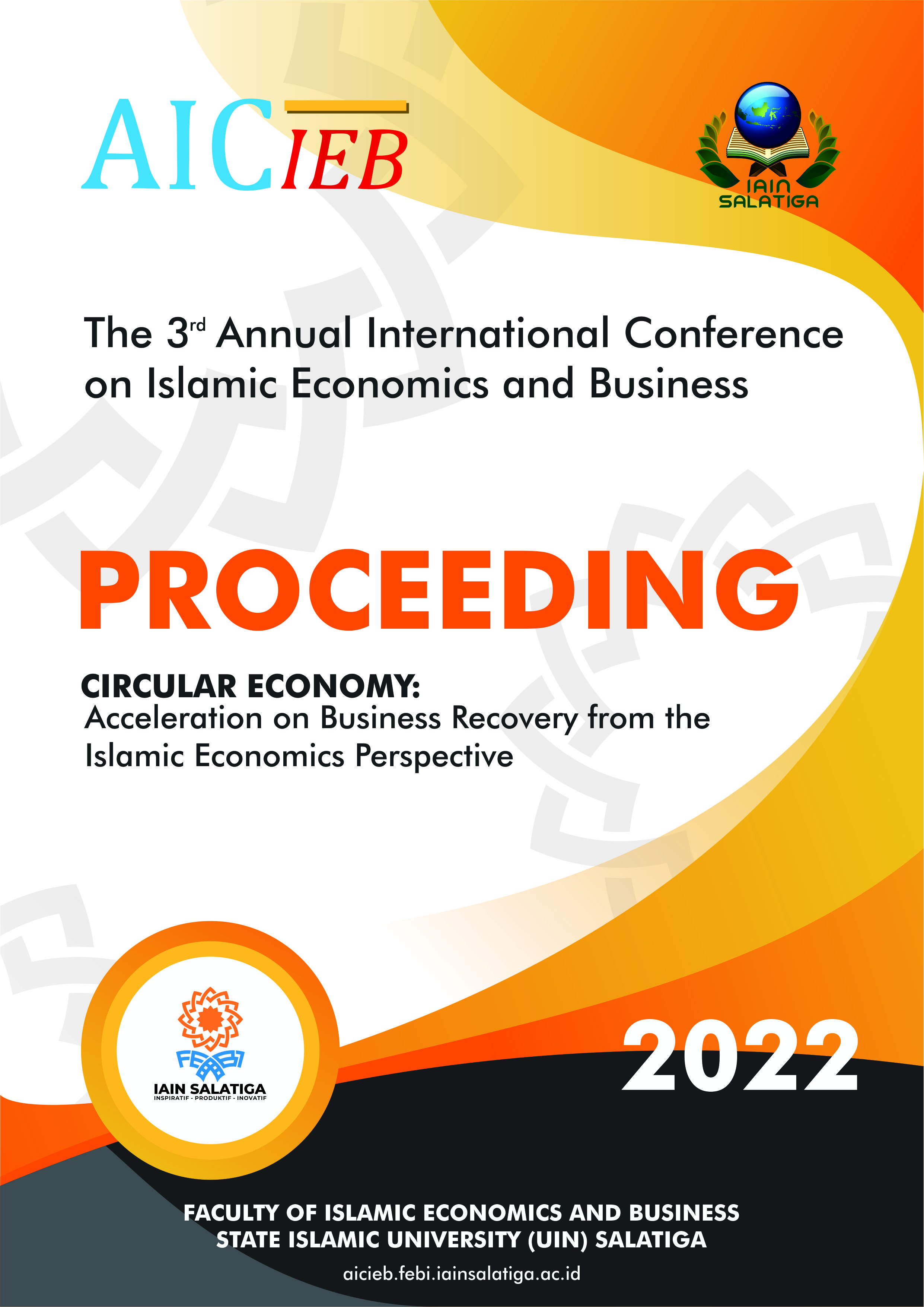 How to Cite
Nurlaila, R., Kuswati, I., & Muttaqin, I. (2022). Comparison of the Financial Performance of Bank Syariah Indonesia Pre and Post Merger During the Covid-19 Pandemic. Annual International Conference on Islamic Economics and Business (AICIEB), 2(1), 198-211. https://doi.org/https://doi.org/10.18326/aicieb.v2i1.133
This work is licensed under a Creative Commons Attribution-ShareAlike 4.0 International License.