The Application of Economic Values, Islamic Work Ethic on Welfare in Community Development
Study on Farmers in Sukau District, West Lampung Regency
Madnasir Madnasir

Faculty Economics and Business Islam UIN Raden Intan Lampung, Indonesia

Alief Rakhman Setyanto

A Zuliansya
Abstract
This study aims to analyze and examine the application of economic values , Islamic work ethic to welfare in the development of farming communities in Sukau sub-district, West Lampung district. This study uses quantitative research with primary data and secondary data with a total of 97 respondents. The results of the study indicate that the variables of Islamic economic values and Islamic work ethic have a simultaneously significant positive influence on Islamic welfare
References
Abbas, Anwar , ( 2009), Fundamentals of the Islamic Economic System, Jakarta: Faculty of Sharia and
Aziz, Abdul ,( 2003) Islamic Perspective Business Ethics , Bandung: Alfabeta Publishers. cet. The 3rd.
Bablily, Mahmud Muhammad ,( 2000) Business Ethics: Economic Concept Studies According to the Qur'an and as-Sunnah , trans. Rosihin A. Ghani, Solo: Ramadhani.
Center for the Study and Development of Islamic Economics (P3EI) ,( 2011) Islamic Economics , Jakarta: PT. King Grafindo Persada
Chapra, M. Umer , ( 2000), Islam and The Economic Challenge , trans. Ikhwan Abidin Basri with the title Islam and Economic Challenges, Jakarta: Gema Insani Press

Fuaddi, Husni. (2018). Work ethic in Islamic perspective. Journal of Al – Amwal Vol.7, No.1 Jun
Karim, Adiwarman A. ( 2007), Islamic Microeconomics, (Jakarta: Raja Grafindo Persada, Third Edition.
Lipsey. Richard G et al , 2006 , , Economics, Jakarta: Literacy Development, p. 103.
Martono, Nanang, (2011) Quantitative Research Methods-Content Analysis and Secondary Data Analysis, Jakarta: Raja Grafindo Persada.
Majid, Nurcholis , ( 2000), Islamic Doctrine and Civilization , Jakarta: Paramadina Foundation, Cet. Number 1.
Muslimin H. Kara , ( 2005), Islamic Banks in Indonesia Analysis of the Indonesian Government on Sharia Banking , (Yogyakarta: UII Press), p. 37-38

Muhammad Nafik HR , ( 2009), Is Interest Really Haram? Comparison of Interest System with Profit Sharing & Its Impact on the Economy ( Surabaya: Amanah Pustaka,), p.16.

Noor, Marzuki , ( 2012), Poverty Profile and Extension Approach, Metro - Lampung: UM Metro Press Research Institute.

Sari, Ria Listi (2017). The influence of Islamic faith and work ethic on the welfare of Muslim farmers in Bugangan Village, Karang Tengah District, Demak Regency. Journal of Economics and Business Vol.12 No. 2
Suardi, Didi (2021) The Meaning of Welfare in the Viewpoint of Islamic Economics. Journal of Islamic Banking Thought and Development. Volume 6 No.2

Suharto et al , ( 2003), Research Method Engineer, Yogyakarta, Andi Publisher.

Suprayitno, Eko, Ekonomi Islam2005,, Pendekatan Ekonomi Makro Islam dan Konvensional, Yogyakarta: Graha Ilmu.

Takariawan . Cahyadi , 2001 , Islamic household trinkets , Cet. 1st,Solo; Intermedia, p. 103.


WJ S Poerwardarimta, Understanding Human Welfare , (Bandung, Mizan, 2006), Cet. 4th, p. 126


Zainul Arifin, Fundamentals of Sharia Bank Management , (Jakarta: Alvabet, 2003), p. 13

Zakaria, Ahmad Rofiq (2019) Analysis of the influence of religiosity on welfare in the Islamic concept of falah with household consumption patterns as a mediating variable: A Study on Carpenters in the Furniture Industry in Krapyakrejo Village, Pasuruan City, East Java 2018. Masters thesis, Maulana State Islamic University Malik Ibrahim.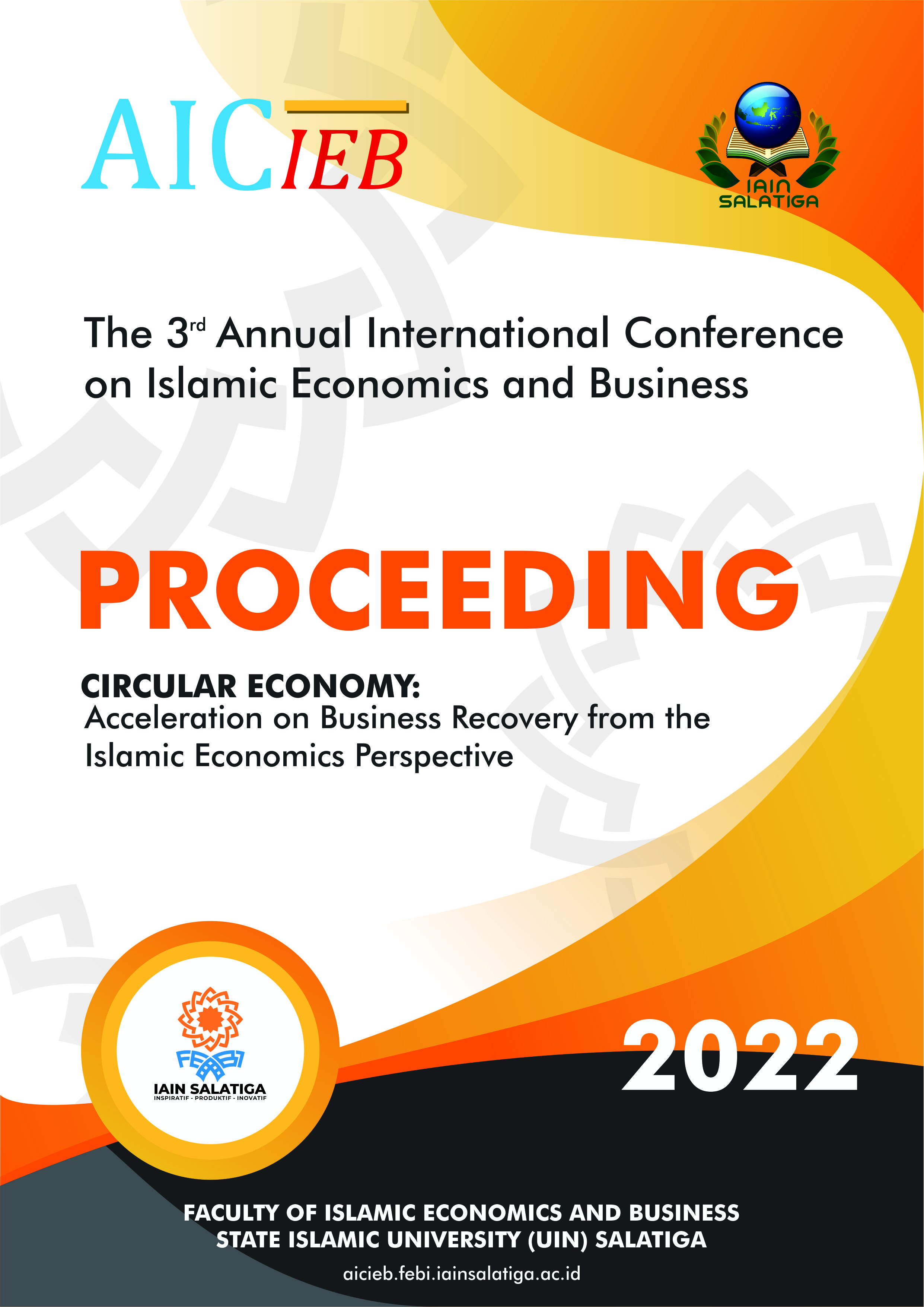 How to Cite
Madnasir, M., Setyanto, A., & Zuliansya, A. (2022). The Application of Economic Values, Islamic Work Ethic on Welfare in Community Development. Annual International Conference on Islamic Economics and Business (AICIEB), 2(1), 101-110. https://doi.org/https://doi.org/10.18326/aicieb.v2i1.171
This work is licensed under a Creative Commons Attribution-ShareAlike 4.0 International License.