Entrepreneural Decision Analysis on Student Through Islamic Business Management Literacy Model
Priska Rahmawati

Jawa Tengah

Febri Nur Hidayati

Muhammad Sifaudin
Abstract
Indonesia is a country with the fourth most populous population in the world. The high population growth of Indonesia raises various kinds of problems; such as the lack of job opportunities. Education is a process to improve the quality of Human Resources (HR). Students as the embodiment of the tri dharma of higher education, the first point on education and teaching is the basis for improving the quality of human resources through the Student Activity Unit (UKM) of the Islamic Economics Study Group (KSEI) by holding entrepreneurship education workshops. Respondents in this study were selected by non-probability sampling technique as many as 50 students. The research analysis tool uses multiple linear regression through SPSS version 26 software. After statistical testing, religiosity has a positive but not significant effect on entrepreneurial decisions. Motivation has no significant positive effect on entrepreneurial decisions. Education has a significant positive effect on entrepreneurial decisions. The implication of this research is that it is hoped that both state and private Islamic universities will be able to provide more Islamic business management training activities for students. So that students are able to become entrepreneurs and create new jobs.


References
Ajzen, I. (1991). The theory of planned behavior. Organizational Behavior and Human Decision Processes, 50(2).
Central Bureau of Statistics (2021). Open Unemployment Rate by Education Level 2018-2020. Retrieved October 8, 2021.
Chua, SH, & Bedford, O. (2016). A Qualitative Exploration of Fear of Failure and Entrepreneurial Intent in Singapore. 43(4), 319–334.
Djamara, SB (nd). Psychology of learning. Rineka Cipta.
Duong, CD (2021). Exploring the link between entrepreneurship education and entrepreneurial intentions: the moderating role of educational fields. In Education + Training.
Edmonson, CV (2016). The Elite Theory of Entrepreneurship Challenged: It's a New Day and a New Niche. University of Alabama.
Farmaki, A., Altinay, L., Christou, P., & Kenebayeva, A. (2020). Religion and entrepreneurship in hospitality and tourism. International Journal of Contemporary Hospitality Management, 32(1), 148–172.
Fauzan. (2014). The Relationship between Religiosity and Entrepreneurship: An Empirical Study in an Islamic Perspective. Modernization, 10(2), 149.
Firdaus, V. (2017). The Influence of Entrepreneurship Education and Achievement Motivation on Entrepreneurial Interests in Students of the Faculty of Education, IKIP PGRI Jember. Journal of the Humanities, 14(2), 45–53.
Herweni, N. (2019). The Influence of Religiosity and External Environment on Entrepreneurial Interest of Uin Sulthan Thaha Saifuddin Jambi Students. State Islamic University of Sulthan Thaha Saifuddin Jambi.
Hidayah, A. (2015). Analysis of Entrepreneurial Reasons Against the Decision to Implement a Side Business (In Business Owners in the Area Around Kambang Iwak and the Pom-X Bike Racing Road in Palembang). Sriwijaya Journal of Management and Business, 13, 2.
Intan, H., & Elisa. (2015). Analysis of Entrepreneurial Reasons Against the Decision to Implement a Side Business (In Business Owners in the Area Around Kambang Iwak and the Pom-X Bike Racing Road in Palembang). Sriwijaya Journal of Management and Business, 13(2).
Love, P. . (2021). 5 Countries with the Most Populations in the World, What Number is Indonesia? Kompas.Com. https://www.google.com/amp/s/amp.kompas.com/edu/read/2021/07/30/113751971/5-country-with-the-most-population-in-the-world-indonesia-number- how many
Nadila, DL, Novita, Y., Maulania, Z., Dhiyanda, A., & Asna, A. (2022). Si-Dimas: A Model for Improving the Welfare of Duafa Based on a Mosque. J-CEKI: Scientific Scholar Journal, 1(1), 31–41.
PB, T. (2005). SPSS 13.0 Applied Parametric Statistical Research. Andi Offset.
Purnomo, AR (2016). Economic and Business Statistical Analysis with SPSS. Fadilatama.
Rajabi, R., Brashear-Alejandro, T., & Chelariu, C. (2018). Entrepreneurial motivation as a key salesperson competence: trait antecedents and performance consequences. Journal of Business & Industrial Marketing, 33(405–416).
Rasmussen, E. and Sorheim, R. (2006). "Action-based entrepreneurship education". technology., 26, 185–194.
Sari, IP, & Maya, S. (2017). Social Media and Social Schooper on Entrepreneurial Motivation in Students. Proceedings of the National Panel on Entrepreneurship Education, Jakarta.
Setiawan, W. 2021. (2021). Islamic Entrepreneurship. accessed on October 20, 2021. Https://Www.Suaramerdeka.Com/Opini/Pr-04173028/Islamic-Enterpreneurship?Page=all.
Wibowo, B. (2017). Religiosity and Entrepreneurial Intention. Ethics, 16, 2.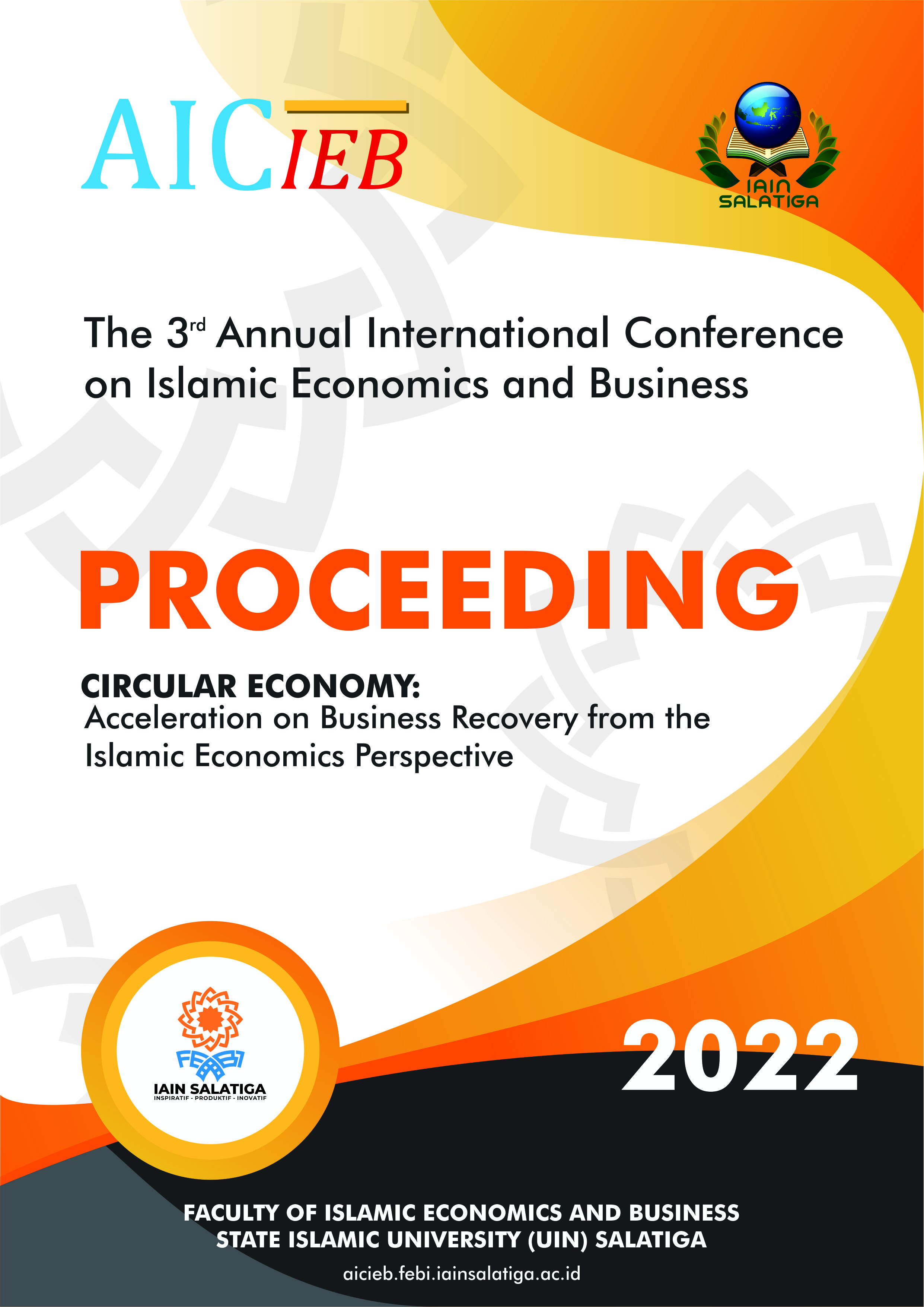 How to Cite
Rahmawati, P., Hidayati, F., & Sifaudin, M. (2022). Entrepreneural Decision Analysis on Student Through Islamic Business Management Literacy Model. Annual International Conference on Islamic Economics and Business (AICIEB), 2(1), 149-157. https://doi.org/https://doi.org/10.18326/aicieb.v2i1.194
This work is licensed under a Creative Commons Attribution-ShareAlike 4.0 International License.