Potential of Circular Economy to Indonesia's Sustainable Halal Fashion Industry in The Framework of Accelerting Sharia Economy and Business
Hadi Peristiwo

UIN Sultan Maulana Hasanuddin Banten
Abstract
The circular economy is one of the tools that can be used to support the achievement of the Sustainable Development Goals and can be a driving force for the acceleration of the sharia economy and business, especially in supporting the sustainable halal fashion industry in Indonesia. This study uses a qualitative approach. The method used in this research is descriptive analysis. Sources of data in this study came from books, journals and interviews with related informants with potency economy circular towards sustainable Indonesian halal fashion as well as the effect to economy and business sharia. Results study show that potency circular economy in the Indonesian halal fashion industry will bring many benefits to the Indonesian economy in terms of saving material costs and reducing exposure to price volatility of input resources, profit opportunities for the sharia economy and business as well as additional economic growth through a more regenerative and restorative value chain.  
References
Arikunto, Suharsimi. 2010. Prosedur Penelitian. Jakarta: Rineka Cipta.
Darojatun, Rina. 2018. "Tren Produk Halal, Gaya Hidup Syar'i Dan Kesalehan Simbolik: Studi Tentang Muslim Kelas Menengah." Jurnal Wardah 19 (2).
Faried, Annisa Ilmi. 2019. "Implementasi Model Pengembangan Industri Halal Fashion Di Indonesia." Jurnal Kajian Ekonomi Dan Kebijakan Publik 4 (2).
Geissdoerfer, M., Savaget, P., Bocken, N.P., & Hultink, E.J. 2017. "A New Sustainability Paradigm ?" Journal Of Cleaner Production.
Govindan, K. 2018. "A Systematic Review On Drivers, Barriers and Practices Towards Circular Economy: A Supply Chain Perspective." International Journal Of Production Research 56 (1).
Hinaa, M., Chauhan, C., Kaur, P., & Amandeep, D. 2022. "Drivers and Barriers Of Circular Economy Business Models: Where We Are Now, and Where We Are Heading." Journsl Of Cleaner Production.
Julian Kirchherr, Denise Reike, Marko Hekkert. 2017. Conceptualizing The Circular Economy: An Analysis of 114 Definitions. Resources,.
Korhonen Jouni, Antero Honkasalo, Jyri Sepala. 2018. "Circular Economy: The Concept and It's Limitations." In Ecological Economics.
Lewandowski, M. 2016. "Designing The Business Models For Circular Economy- Towards The Conceptual Framework." Journal Of Sustainability 8 (1).
M. R Munaro, Tavares, Braganca, L. 2020. "Towards Circular and More Sustainable Buildings: A Systematic Literature Review On The Circular Economy In The Built Environment." Journal of Cleaner Production.
Mayang, Iga. 2019. "Gaya Fesyen Hijab Ala Millenials." GEMA: Media Informasi & Promosi Industri Kecil Menengah Dan Aneka, 2019.
McClelland. 2016. "A Framework for Sustainable Circular Business Model Innovation." Journal Of Technology Information Management Review 6 (2).
Melda Hidayanti, Saputri, Kamila Windyani Putri. 2018. "Trend Perubahan Gaya Hidup Muslim." In Prosiding Seminar Nasional ASBIS, 303–13. Politeknik Negeri Banjarmasin.
Michael Todaro, Stephen C.Smith. 2006. Pembangunan Ekonomi. Jakarta: Erlangga.
Nasution, Mustafa Edwin. 2015. Pengenalan Eksklusif Ekonomi Islam. Jakarta: Kencana.
Nells, M, J. Grunes, G. Morscheck. 2016. "Waste Management In Germany, Development to a Sustainable Circular Economy." In Procedia Environmental Series.
Nurhidayati Dwiningsih, Ludwina Harahap. 2022. "Pengenalan Ekonomi Sirkular (Circular Economy) Bagi Masyarakat Umum." Empowerment: Jurnal Pengabdian Masyarakat 1 (2): 135–41.
Rianingrum, Abang Edwin Syarif Agustin & Cama Juli. 2019. "Pendekatan Ekonomi Sirkular Dalam Pemikiran Desain Sebagai Materi Pendidikan Desain Untuk Pembangunan Berkelanjutan." Jurnal Seni & Reka Rancang 2 (1): 93–106.
Rizoa Vasileros, Katja toukko, Arno Behrens. 2017. "The Circular Economy A Review of Definitions, Process and Impact." CEPS Research Report.
Velenturf, A. P. M, Purnell, P. 2021. "Principles For A Sustainable Circular Economy." Sustainable Production and Consumption.
Winans. 2017. The History and Current Applications of The Circular Economy Concept. Renewable and Sustainble Energy Reviews.
Yuswohady. 2014. Middle Class Muslim: Kenali Perubahannya, Pahami Perilakunya, Petakan Strateginya. Jakarta: PT. Gramedia Pustaka Utama.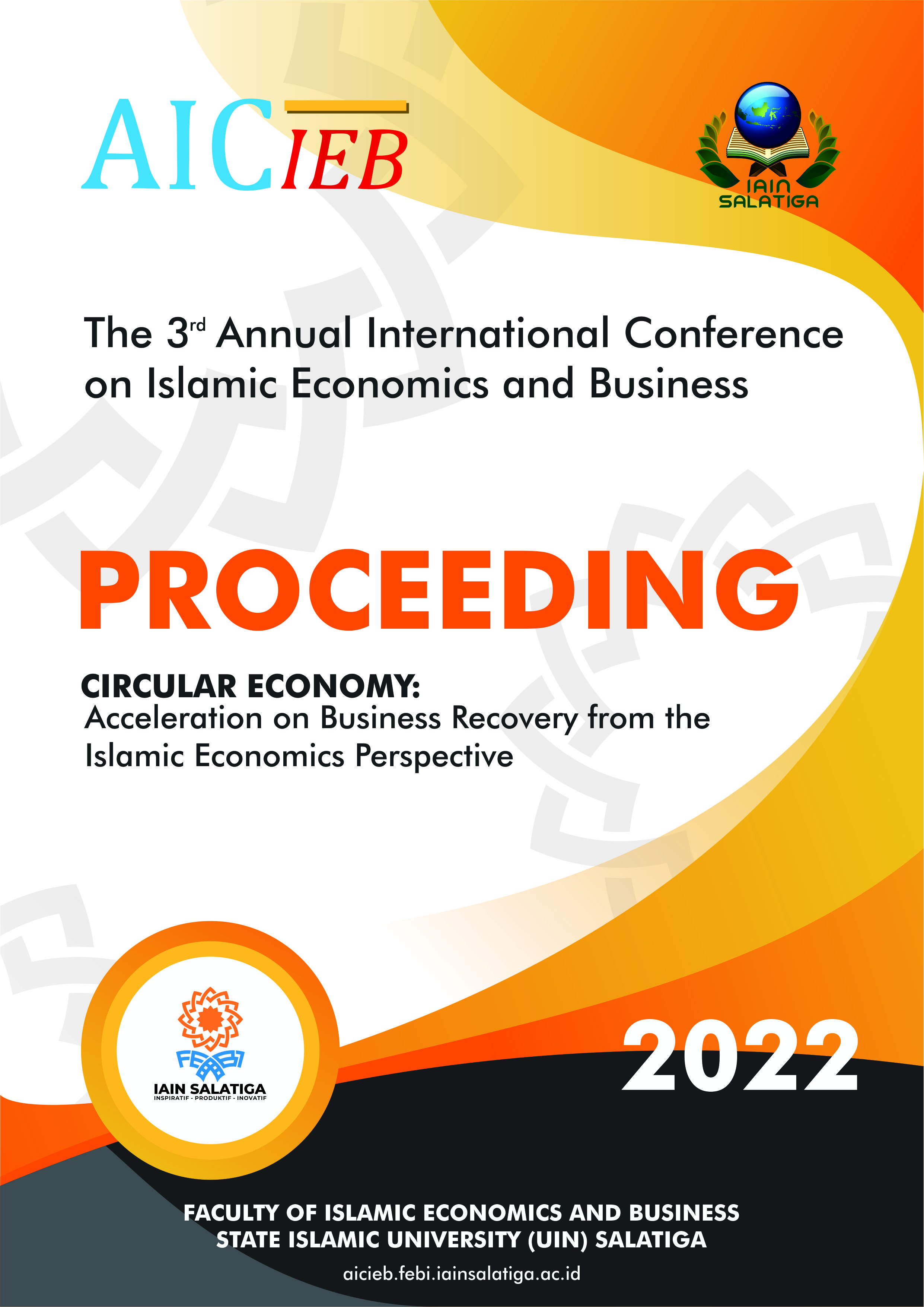 How to Cite
Peristiwo, H. (2022). Potential of Circular Economy to Indonesia's Sustainable Halal Fashion Industry in The Framework of Accelerting Sharia Economy and Business. Annual International Conference on Islamic Economics and Business (AICIEB), 2(1), 24-31. https://doi.org/https://doi.org/10.18326/aicieb.v2i1.78
This work is licensed under a Creative Commons Attribution-ShareAlike 4.0 International License.