Factors Affecting Cimory Repurchase Interest with Consumer Satisfaction as Intervening Variable
Chaqiqotun Nurul Izzah

IAIN Salatiga

Agung Guritno
Abstract
This study aims to determine the factors that influence the intention to repurchase Cimory with consumer satisfaction as an intervening variable. This type of research is quantitative. The data collection method used in the form of questionnaires distributed to visitors to minimarkets, cooperatives and shops as consumers who buy or have consumed Cimory products. The sample in this study was 100 people using purposive sampling technique. The analysis used is instrument test, classical assumption test, multiple linear regression analysis, statistical test and path analysis, and Sobel test is used to determine the effect of intervening variables. The results of this study prove that: (1) Simultaneously halal certification, Product Variation and product quality have a significant positive effect on repurchase interest. (2) Partially halal certification and consumer satisfaction have a significant positive effect on repurchase intention, while product variations and product quality have a positive and insignificant effect on repurchase interest. (3) Sobel test shows that there is a positive and insignificant effect on halal certification on repurchase intention with consumer satisfaction as an intervening variable. In addition, the Sobel test also showed a significant positive effect on product variation and product quality on repurchase intention with consumer satisfaction as an intervening variable
References
Akim., Konety, N., Purnama, C., & Adilla, M. H. (2018). Pemahaman Usaha Mikro, Kecil dan Menengah (UMKM) di Jatinagor terhadap Kewajiban Sertifikasi Halal pada Produk Makanan. Kumawula: Jurnal Pengabdian Kepada Masyarakat, 1(1), 31–49. https://doi.org/http://10.24198/kumawula.v1i1.19258
Aldeen, K. N., Ratih, I. S., & Pertiwi, R. S. (2021). Cash waqf from the millennials' perspective: a case of Indonesia. ISRA International Journal of Islamic Finance.
Anggraeni, D. P., Kumadji, S., & Sunarti. (2016). Pengaruh Kualitas Produk terhadap Kepuasan dan Loyalitas Pelanggan (Survei pada Pelanggan Nasi Rawon di Rumah Makan Sakinah Kota Pasuruan). Jurnal Administrasi Bisnis, 37(1), 171–177.
Annisa, A. A. (2021). Islamic Financial Literacy Cycle in the Family. Indonesian Journal of Islamic Economics Research, 3(1).
Arjakusuma, R. S., Hartoyo, S., & Fahmi, I. (2014). Rantai Nilai pada Industri Susu Studi Kasus PT Cisarua Mountain Dairy (Cimory). Jurnal Manajemen & Agribisnis, 10(1), 22–31. https://doi.org/10.17358/jma.10.1.22-31
Bawono, A. (2006). Multivariate Analysis dengan SPSS. Salatiga: STAIN Salatiga Press.
Denniswara, E. P. (2016). Pengaruh Kualitas Produk, Harga dan Promosi terhadap Intensi Membeli Ulang Produk My Ideas. Performa: Jurnal Manajemen Dan Start-Up Bisnis, 1, 480–488.
Faradisa, I., Hasiholan, L. B., & Minarsih, M. M. (2016). Analisis Pengaruh Variasi Produk, Fasilitas, dan Kualitas Pelayanan terhadap Minat Beli Ulang Konsumen pada Indonesian Coffeeshop Semarang (ICOS CAFÉ). Journal of Management, 2(2), 1–13.
Khan, S., Haleem, A., & Khan, M. I. (2020). Risk management in Halal supply chain: an integrated fuzzy Delphi and DEMATEL approach. Journal of Modelling in Management, 16(1), 172–214. https://doi.org/10.1108/JM2-09-2019-0228
Kholisdinuka, A. (2021). Ketua MPR Sebut 2050 Islam Jadi Agama Terbesar, Indonesia Punya Pengaruh. https://news.detik.com/berita/d-5368116/ketua-mpr-sebut-2050-islam-jadi-agama-terbesar-indonesia-punya-pengaruh#:~:text=Ketua MPR RI Bambang Soesatyo,persen dari populasi muslim dunia.
Maichael. (2018). Pengaruh Variasi Produk dan Kualitas Layanan terhadap Kepuasan Konsumen Dapur Pandhawa. Jurnal Manajemen Dan Start-Up Bisnis, 2(6), 1–8.
Pelawi, A. V. (2018). Pengaruh Variasi Produk terhadap Minat Beli Konsumen pada Grosir Sembako UD. Pelawi (Studi pada UD. Pelawi Lau Baleng). Skripsi. Medan: Universitas Sumatera Utara.
Putro, S. W. (2014). Pengaruh Kualitas Layanan dan Kualitas Produk terhadap Kepuasan Pelanggan dan Loyalitas Konsumen Restoran Happy Garden Surabaya. Jurnal Manajemen Pemasaran, 2(1), 1–9.
Saretta, R. I. (2019). Cimory, Berawal dari Keinginan Membantu Peternak Sapi Hingga Jadi Perusahaan Sukses. https://www.cermati.com/artikel/cimory-berawal-dari-keinginan-membantu-peternak-sapi-hingga-jadi-perusahaan-sukses
Sugiyono. (2016). Metode Penelitian Kuantitatif, Kualitatif, dan R & D. Bandung: Alfabeta.
Waksito, D. (2015). Pengaruh Sertifikasi Halal, Kesadaran Halal dan Bahan Makanan terhadap Minat Beli Produk Makanan Halal (Studi pada Mahasiswa Muslim di Yogyakarta). Skripsi. Yogyakarta: Universitas Negeri Yogyakarta.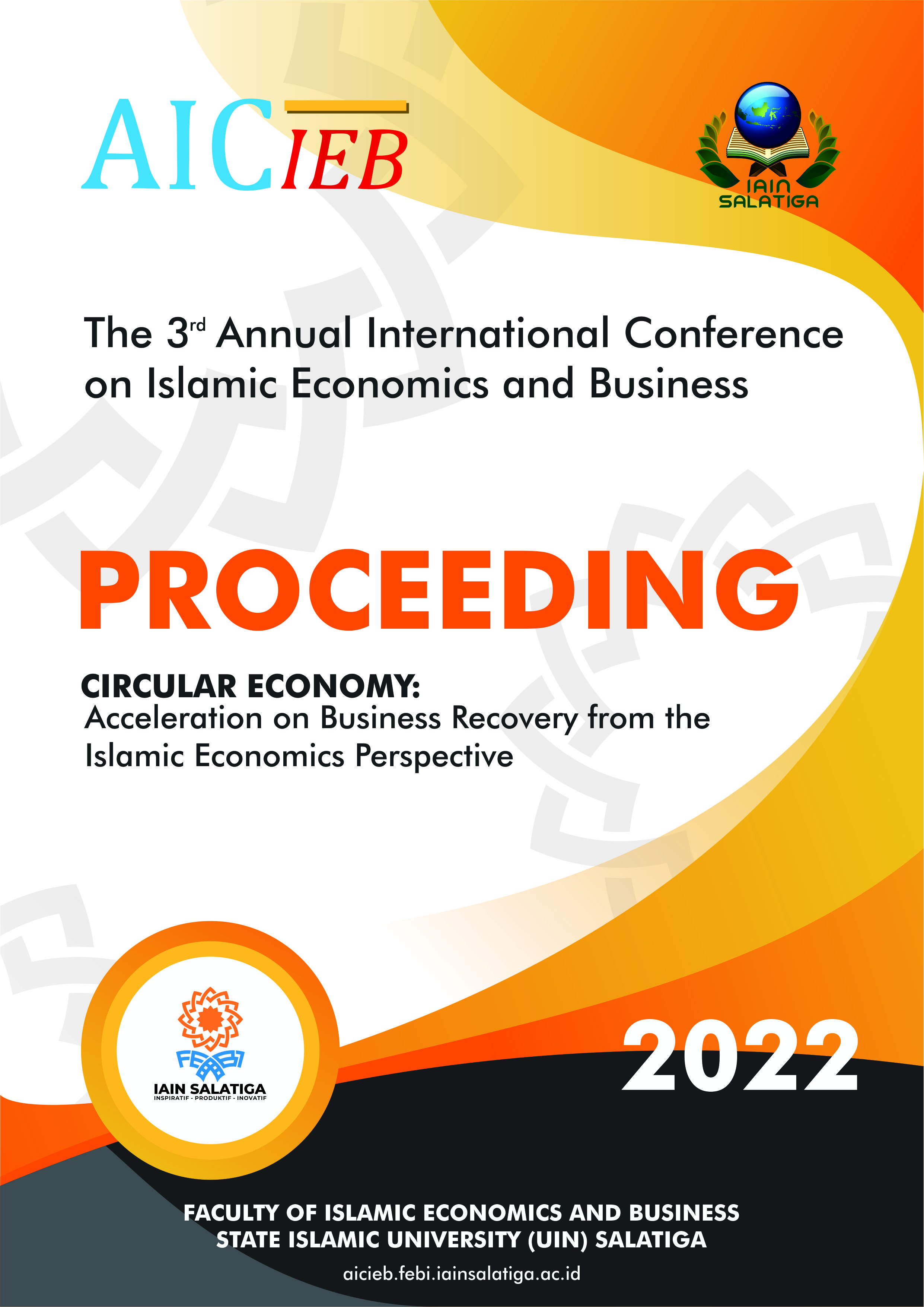 How to Cite
Izzah, C., & Guritno, A. (2022). Factors Affecting Cimory Repurchase Interest with Consumer Satisfaction as Intervening Variable. Annual International Conference on Islamic Economics and Business (AICIEB), 2(1), 133-148. https://doi.org/https://doi.org/10.18326/aicieb.v2i1.86
This work is licensed under a Creative Commons Attribution-ShareAlike 4.0 International License.