- IMPLEMENTATION OF RELIGIOUS VALUES AND CULTURAL VALUES IN RELIGIOUS MODERATION THROUGH THE TUMPENG TRADITION
Umi Nur Chofifah

UIN Sayyid Ali Rahmatullah Tulungagung
Abstract
Abstract
The pluralistic Indonesian society often creates clashes within it. This clash can result in a radicalism movement that is very dangerous for the nation. Therefore, there needs to be a way to overcome this. One way that can be done is by carrying out a religious moderation movement. The existence of a pluralistic society, religious moderation in Indonesia can be carried out through a tradition called the "Tumpengan Tradition" which contains religious and cultural values. The purpose of this study was to determine the extent of the implementation of religious values and cultural values contained in the tumpeng tradition in Java in religious moderation. This study uses a qualitative approach, without involving statistics and thematics. The method used in this research is the literature study method by examining books, journals, or related sources. Various tumpengan traditions in Java are very unique and interesting, such as the tumpeng tradition in Kebumen, the tumpeng tumpengan in the Seblang tradition in Banyuwangi, the thousand tumpeng in the night selikuran tradition at the Kasunanan Surakarta Palace, and the tumpeng tradition in the one suro ritual in East Sambirejo. All tumpeng traditions in the area contain religious and cultural values that can be implemented in religious moderation in a pluralistic society. These values are the value of alms, the value of ukhuwah, the value of helping each other, and the value of sharing, harmony, and togetherness.

keywords: religious, cultural, moderation, tumpengan.
Abstrak
Masyarakat Indonesia yang plural kerap kali menimbulkan benturan-benturan di dalamnya. Benturan tersebut dapat mengakibatkan adanya gerakan radikalisme yang sangat membahayakan bangsa. Oleh karena itu, perlu adanya suatu cara untuk mengatasi hal tersebut. Salah satu cara yang dapat dilakukan ialah dengan melakukan gerakan moderasi beragama. Adanya masyarakat yang plural, moderasi beragama di Indonesia dapat dilakukan melalui suatu tradisi bernama "Tradisi Tumpengan" yang di dalamnya mengandung nilai-nilai keagamaan dan budaya. Tujuan dari penelitian ini ialah untuk mengetahui sejauh mana dari implementasi nilai keagamaan dan nilai budaya yang terkandung dalam tradisi tumpengan di Jawa dalam moderasi beragama. Penelitian ini menggunakan pendekatan kualitatif, tanpa melibatkan statistik dan tematik. Metode yang digunakan penelitian ini ialah metode studi pustaka dengan menelaah buku, jurnal, atau sumber-sumber terkait. Berbagai tradisi tumpengan di daerah Jawa sangat unik dan menarik, seperti halnya tradisi kepungan tumpeng tawon di Kebumen, selamatan tumpengan dalam tradisi Seblang di Banyuwangi, tumpeng seribu dalam tradisi malam selikuran di Kraton Kasunanan Surakarta, dan tradisi tumpeng dalam ritual satu suro di Sambirejo Timur. Semua tradisi tumpengan yang ada di daerah tersebut mengandung nilai-nilai keagamaan dan budaya yang dapat diimplementasikan dalam moderasi beragama di tengah masyarakat yang plural. Nilai-nilai tersebut berupa nilai sedekah, nilai ukhuwah, nilai tolong menolong, nilai saling berbagi, kerukunan, dan kebersamaan.
Kata kunci: keagamaan, budaya, moderasi, tumpengan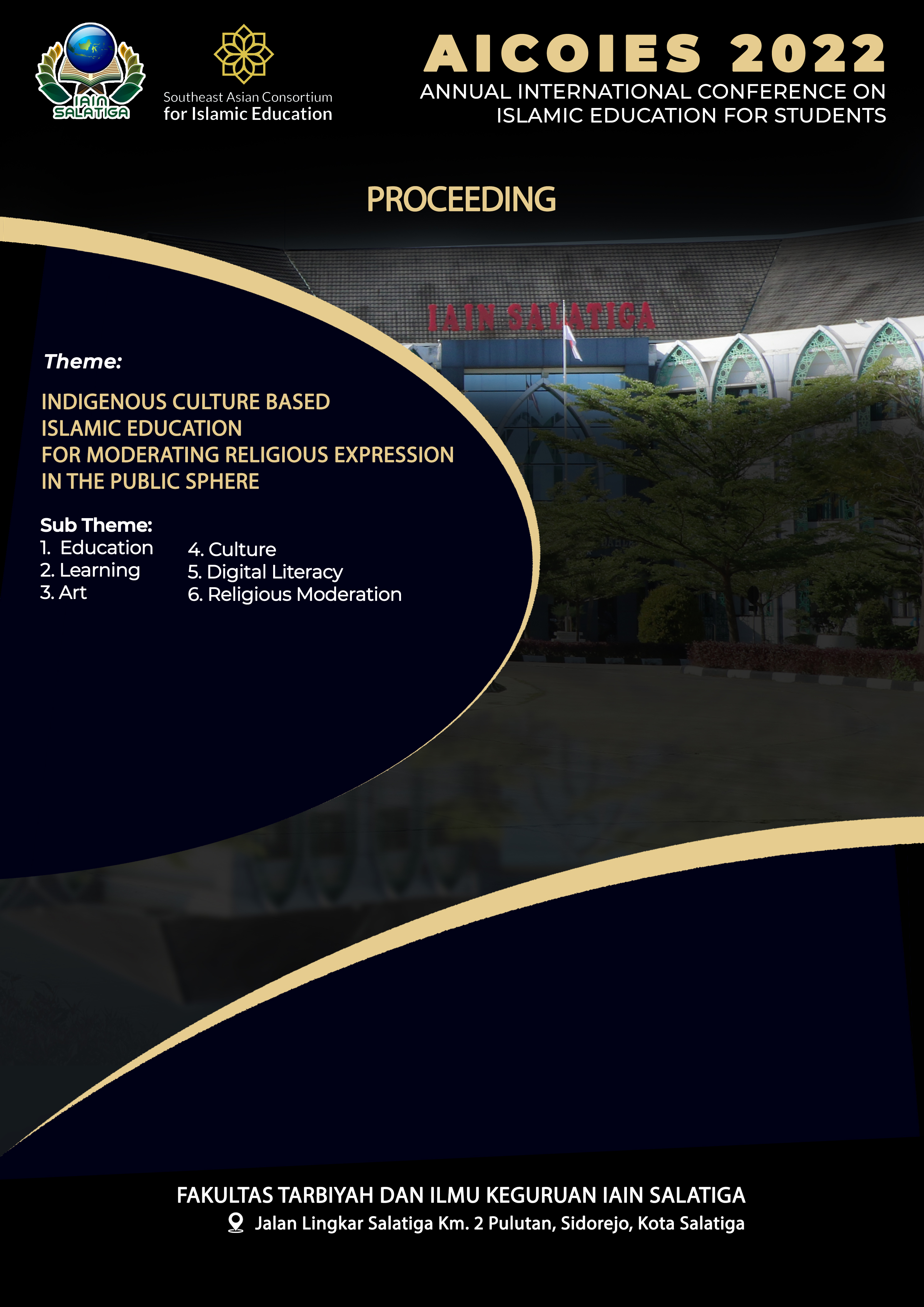 This work is licensed under a Creative Commons Attribution-ShareAlike 4.0 International License.